Project Update September 2022 - Just waiting for confirmation that funding has been approved by the Forestry Commission, before works are expected to start at the end of this year. A site meeting took place on 28th September to agree a project plan, and get the ball rolling. At a minimum, we are expected to have 3,000 trees, specifically selected for this space, creating a woodland area which will benefit both current and future generations, as well as contributing towards the slowing global warming. The Woodland will grow over decades to come, creating ever changing natural habitats and supporting wildlife as well and continuing to be a well loved and valued space for our residents to enjoy.
NORTH WEALD BASSETT PARISH COUNCIL is looking to create a woodland area at Weald Common, planting between 2,000 and 4,000 trees, on land adjacent to the access road leading from North Weald Village Hall Car Park. The council is working closely with Essex County Council's officer for Forestry and Woodlands to ensure that the project will not cause any adverse effects to the biodiversity at this important location. It is hoped that the project can be combined with commemorating the Queen's Platinum Jubilee and although many ideas have already been put forward, for example the allocation of a tree to each local school child, the council will listen to all suggestions.
The creation of a new woodland will not only be a legacy for future generations, but it will also help to offset the impact of climate change.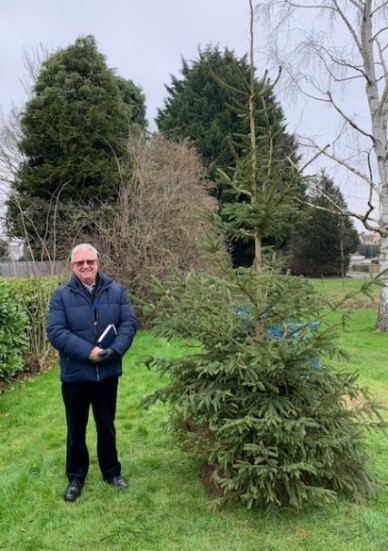 NORTH WEALD BASSETT PARISH COUNCIL has recently taken delivery of a Norwegian Spruce as a permanent Christmas Tree on the Village Green. The tree was given and planted, free of charge, to the Parish by Epping Forest District Council. Parish Council Chairman, Cllr Alan Buckley, is pictured standing next to the tree.
The Parish Council would like to thank residents for their comments and suggestions regarding the Parish Council's Tree Planting project at Weald Common. Please look out for further details which will be published over the next few months.
February 2022